This article appeared in the Winter 2007 issue of Texoma Living!.
by Krista Lowrey
All too often the holiday season can be completely overwhelming— gifts to buy and wrap, cards to mail, meals to prepare, parties to plan. With so much to do, there is little time left for anything else. As daunting a task as it may seem, holiday decorating does not have to contribute to the stress level.
Shannon Scoggins of Special Occasions florists offers the very specialized service of holiday home decorating. Hiring someone like Scoggins and her staff of stylists to decorate you tree, a staircase, a single room or your entire home, not only relieves the stress of doing it yourself, but having it professionally done can create such a fabulously festive atmosphere that it is sure to put you and your guests in high holiday spirits.
In holiday decorating, Scoggins believes that the family heirlooms— baby's first ornament, paper chains and the antique Nativity scene—are the most important items to include. "That's what Christmas is all about," she said. "Christmas just isn't the same without those things." A good decorator can take those precious objects and treat them in such a way that they become extraordinary.
So can you. Scoggins, who has successfully operated her Sherman florist shop for five years, suggests investing in a couple of key, bold pieces that you can be showcase and then accent with your other smaller items.
Here are a few holiday decorating ideas: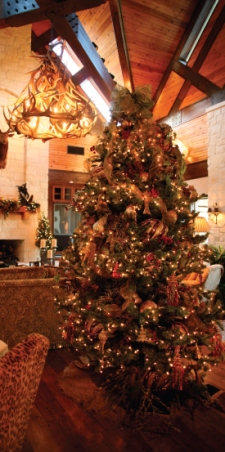 Tie ribbons to chair backs, candlesticks, picks in plants, garland, basket handles, curtain tie backs or just about anywhere. Select ribbon that you can untie and re-tie each year. When the holidays are over, untie the ribbons, press them lightly and store them for use again next year.
Place small Christmas trees throughout the house. A mini tree in your guests' bedroom decorated with miniature ornaments from a crafts store will give a welcoming feeling to your holiday visitors. Decorate a mini tree for the kitchen and adorn it with miniature kitchen items found at a toy store.
Drop a tealight candle in a Mason jar and tie taffita, or a holiday ribbon around the neck, maybe even add a sprig of mistletoe. Nestle the candle in peppermint candies or some other nonflammable holiday items. Different sized jars grouped together make an even more dramatic effect.
Wrap pictures up like a gift, complete with an ornate bow and "From Santa" gift tag and hang them back on the wall. This creates some great holiday cheer. You do not have to do this all around your house—try just the entryway or dining room.
When decorating your tree, instead of using traditional garland, attach holiday ribbon or long strands of raffia to the top branches and let them drape down the tree vertically.