This article appeared in the Spring 2008 issue of Texoma Living!.
by Desiree Simons
It is a quiet place hidden away in an office block off North Travis Street in Sherman, so the amount of rowdy school spirit that comes out of the place is surprising. Daron Holland owns Hollands Logo; as a native and lifelong resident of Sherman he bleeds maroon and white.
Holland also has a janitorial service called Dee's Cleaning, and one of the services it offers is cleaning uniforms. His customers used to ask if he knew where they could get logos created for those uniforms. The question came up so often that Holland began to serve as a broker between clients in search of logos and the screen-printing and embroidery companies that created them.
In 2006, Holland made the leap from broker to logo designer and creator and started "Hollands Logo." It is a family affair. Holland's 18-year-old daughter, Courtney, helps customers design their logos and is involved with the screen printing process. The business has grown steadily to include customers of all types, including manufacturers, construction firms, school districts, individuals and other business owners.
The Sherman Independent School District is one of Holland's special clients. A few years ago, the Athletic Booster Club decided the Whitesboro and Sherman logos were too much alike. Both high schools are "Bearcats" and both wear maroon and white. They turned to Hollands Logo, and the company partnered with Sherman advertising agency Acree Creative and the Booster Club to develop and trademark the new Sherman High School Bearcat logo. The final logo design was created by graphic artist Scott Fuhrman. Cheerleaders, other athletes and Sherman ISD staffers now wear logos made possible by Holland.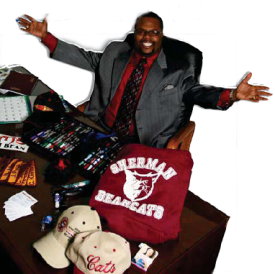 Daron Holland believes in community involvement. He is a loyal Bearcat supporter and served as president of the Sherman Athletic Booster Club four times. "Until I got so busy, I went to every football practice session. I miss being able to do that." He got to know many of the players well and sometimes served as a sounding board and confidant to young men who needed to talk to someone. He has also been a little league football coach.
Love of football runs in the family for Daron Holland. His uncle, Vernon Holland, was a right tackle in the NFL for the Cincinnati Bengals from 1971 to 1981 and for one year with the New York Giants. Like football, the logo business is very competitive.
The purpose of a logo is "to send a message about an organization, a business or a business owner," Holland said. "I try to incorporate the personality of the business or the individual into the logo because the logo speaks for them.
"A good logo is simple and memorable. It shouldn't be too busy. We can create one from a client's idea or we can help them develop an idea if they don't know where to start."
Holland starts by asking the client questions to determine the color and style of logo they want. "They might want a certain type of animal like a lion or an eagle, or they might prefer a graphic design or a particular shape. We keep working together until we get it right."
Holland then uses a combination of sketching and special computer programs to come up with the final version. "We can put the logo on just about anything from business cards to 'ASIs' (advertising specialty items) like cups, pens, hats, calendars and other items.
Sports teams and business people are not the only ones who use Holland's services. Individuals often come to him to get help designing and printing T-shirts and items for family and school reunions. "I really like it when I have enough lead time and freedom to be creative," he said, showing a client's family photos from three generations. "I am going to design a T-shirt with these photos in a way that tells the story of this family."
"To be successful in this business you have to stay ahead of what's happening next. You have to know what's going on around you," he said. "For example, what new businesses are coming to town and who is running for office."
When asked what advice he could give people who want to start their own businesses, he replied, "Set small, reasonable goals, and when you achieve those move on to bigger goals—and be ready for a lot of hard work."
Holland's Logo
Daron R. Holland
315 N. Travis St., Ste. C-1
Sherman, TX 75090
(903) 892-8163
hollandslogo@yahoo.com