This article appeared in the Spring 2007 issue of Texoma Living!
by Haley Shapley
A floor-length white dress with pink roses, covered in thousands of tiny beads that shimmer when they catch the light, sits gleaming in the window. For a serious shopper, it's the pot of gold at the end of a rainbow. Retailing for $400-plus, this gorgeous find is tagged at $130.
Although it's not new, you'd be hard-pressed to find anyone who could tell the difference. And that's the idea behind Gina Vicars' Sherman store Treasure Trunk.
Vicars' consignment shop has been marking down high priced-items for 18 years. All garments are brand name and are newer rather than older. If it's out of style, it's out of here.
Vicars opened the store in the late 1980s after traveling the country to find out what worked and what didn't in consignment shops, from Arizona to New York to Michigan to Florida.
What she found, the key to the treasure trunk if you will, was that value matters. "They want garments that are going to hold up," said Vicars. "When they shop with us, they get quality garments at about 75 percent off of retail."
Name brands at low prices abound in the store. A Neiman Marcus silk skirt for $12, Gap capris for $10, a Ralph Lauren button- down for $8, and a Jones New York suit for $15 are just a few of the finds. James Cured by Seun jeans—popular with celebrities like Jennifer Aniston, Cameron Diaz, and Paris Hilton—retail for $180 but go for $48 at Treasure Trunk. A Dere Kiang wedding dress with embroidered bodice and satin skirt is originally $690, but here (and keep in mind it's new, not secondhand) sells for $500.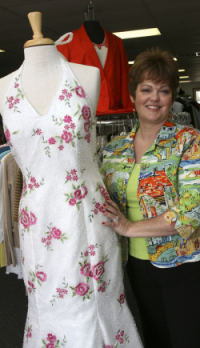 The bridal fashions are part of a full-service bridal boutique. Bridal Treasures offers new wedding dresses at reduced prices, as well as tuxedo rentals, accessories such as veils and tiaras, and consigned bridesmaids' and flower girl dresses.
Although the store is well organized, it does take time to go through the racks. And unlike in a traditional store, here when customers find something they like, there is almost certainly only one of the item, in just one size. But don't despair if what you want just won't quite fit. The inventory at Treasure Truck turns over much more quickly than most places. Vicars sees this as one of the benefits of shopping at her store. "Here, you see new and different garments every day," she said. "It's fun because it's like a treasure hunt."
Treasure Trunk
2400 Texoma Parkway
Sherman TX 75090
(903) 870-7070
Open M-F 10A-6P
Saturdays 10A-5P
Photos by Alton Lynch