Editor's Note: Best Aeronet went out of business in early 2008.
This article appeared in the Winter 2006 issue of Texoma Living!
Just over half a century ago the Jet Age dawned, but it's been just 25 years since the rich and famous decided that private aircraft was the only way to fly. Today, there are some 219,000 non-commercial airline, non-military airplanes in the U.S., according to the General Aviation Manufacturer's Association (GAMA), a trade organization that trades those things. Together, those planes rack up 28 million miles each year—two-thirds of those for business travel.
Thanks to televisions shows like "Lifestyles of the Rich & Famous," and MTV "Cribs," we know about the celebrities who prefer to stretch out in their own jet rather than line up at a security checkpoint with their shoes in one hand and a Ziplock baggie filled with potentially explosive mini hand lotion bottles. Tom Cruise took Katie Holmes on a first date—to Paris—in his transcontinental private jet and Oprah has special seats for her dogs on her luxurious Gulfstream jet.
The market for private aircraft has been flying high since it reached a 20-year peak in 2004. Purchases of private jets for personal and business use increased by 26.9% in 2005 and the growth continues. That's a relatively quick growth cycle considering the first private jet didn't really hit the skies until 1963.
William P. Lear, Sr. was a creative genius and entrepreneur who invented a number of devices that have become American icons. By age 20, he established the Qunicy Radio Laboratory, one of many companies he would found. Lear developed the first practical car radio in 1922, selling it to Motorola Corporation two years later when he couldn't get traction on marketing his new idea. But other inventions did launch successfully.
Between 1930 and 1950 Will Lear was granted more than 100 patents for aircraft radios, communications and navigation equipment that was used worldwide by both military and commercial aviation. Later, he developed the first aircraft autopilot.
In the late 1950s Lear envisioned a small private jet airplane for business travelers that would match the performance of commercial airliners. He formed a team of engineers in Switzerland, later moved back to the U.S. where they completed work on the Learjet. In 1963, the first Learjet rolled down the runway at the Wichita Municipal Airport and started a revolution in personal and business travel.
Decades later, a Texoma company has set up shop at the Grayson County Airport and is giving new life to the progeny of William P. Lear, Sr. Best AeroNet Aviation has made a good business of reviving and refurbishing Learjets. Fred Cassel of Sherman is the special projects manager for the company. "Our subsidiary operation BestJets, is an engine overhaul facility for General Electric Learjet and Falcon 20 jet engines. We are one of the handful of certified facilities in the U.S.," said Cassel.
Best AeroNet began operations in 1992 as a contract fuel provider at Addison Airport near Dallas. In short order, founders Roger Humiston and Kate Woolstenhulme, a husband and wife team, found there was a lot more they could do in the airplane business than sell gas. Humiston, whose career in commercial aviation had included flying as a corporate pilot for a Midwest food chain, had been attracted to Learjets since his growing up days in Hutchinson, Kansas, not far from Wichita and the Learjet factory. He saw an opportunity in taking care of corporate aviation with maintenance, repair and refurbishing.
Rebuilding and reselling Learjets has become a big part of Best AeroNet's business. A well-worn Learjet model 25 can cost as little as $650,000. Once it has been gutted, a team of skilled craftspeople goes to work replacing nearly every square inch of the interior with high-end leather and fabrics, exotic woods and complex cabinet design that provides the passengers with ultimate comfort and style. In the end, a nicely upscaled model 25 can bring up to $2.5 million when resold.
Woolstenhulme, also a pilot—with a Masters Degree in Fine Arts—is the center of the design team, as well as the company's CEO. She brought an artist's eye and a flyer's sensibility to the company when it expanded its scope to include rebuilding and customizing aircraft interiors. "She has a real eye for colors and fabrics and how they work together with the textures in the airplane," said Cassel. "She designs the paint schemes as well, and she agonizes over it. She's a perfectionist." The result of Woolstenhulme's effort is something akin to the airplane as art.
When the company outgrew the available space in Addison, they looked north and found just what they had been looking for in Grayson County Airport—room to grow, a runway long enough and strong enough to handle anything that flies and a local work force of skilled technicians and craftsmen. Best AeroNet came to town in 2002.
Today, in addition to a world wide network of fuel operations, they offer a growing variety of services to the aviation industry. "We are a certified repair station for the Learjet airplanes up to the 30 series and the Falcon 20 series," said Cassel. "On the other side of the airport we're a FFA certified repair station for the General Electric CJ610 and CF700 engines which are used on these airplanes."
And that's not the half of it. "We completely refurbish interiors, avionics and paint. The paint is done by a company in Ardmore, but most everything else is done right here," Cassel said. Refurbishing an airplane is not quite the same as detailing a car. A Falcon 20 is in the hangar for its major C inspection, which happens every six years. "It's a tune-up on a massive scale that's required by the manufacturer's FFA approved maintenance program," he said.
By the time the Falcon goes home in 60 to 90 days, it will have been stripped down, poked, prodded and checked out from the tip of the tail to point of the nose. And yes, they'll check the air in the tires, and wash the windshield too. "We'll inspect the engines and the airplane; we do a massive lubrication on areas that don't normally get opened up on short cycles. We do a complete series of non destructive testing— that's x-rays and imaging—to verify the structural integrity of the fuselage."
If your airplane is getting a bit dowdy, Best AeroNet can address that problem from interiors to avionics. Cassel steps up to another airplane, one that has just been finished, and shows off the company's handiwork. It smells like a new car interior; the woodwork—it's not wood actually, but more on that later—gleams like the inside of a Rolls Royce and the leather seats aresoft to the touch. "We put a whole different headliner in this one," Cassel said. "Previously they didn't have the air outlets for each seat, we added that."
The designers at Best AeroNet have developed pull out game tables, accordion window shades and all manner of little comforts that make the three hour range of these airplanes seem a little shorter. The interiors are made of composite materials, with honey comb cores for lightness and thin wood veneers for appearance. The fine cabinets, the equal of anything emerging from a custom woodworking shop, is built in-house and to the exacting safety standards required by the FFA.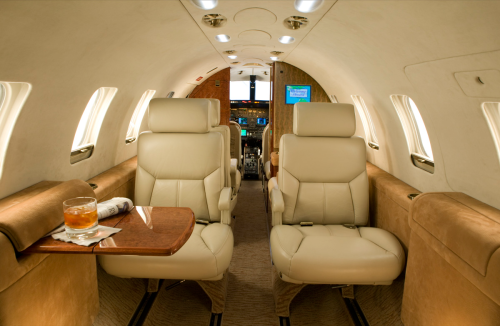 "There's a lot of technology involved," said Cassel. "Everything has to meet very stringent fire retardant standards. The finish has to be very special and a great deal of attention has to be paid to the build up of the seats and the leather and the foam and the headliners."
But the biggest add on is one of the most basic. "One the things we've developed, creature comfort wise, is a fully enclosed lavatory." In the bullet like fuselage of some corporate jets, you don't just get up and stroll down the aisle to "take a break". But Cassel pulls a sliding panel out of the wall and unfolds it, pulls shut the panel that closed off the cockpit, raise a leather cushioned seat, and there you are. All that's needed is a roll of Charmin.
The days of the leather caps and silk scarves and fly-by-the-seat-of-your-pants have long since past, but the leaps of technology that mark the computer and information age can render airplanes old before their time. For this reason an AeroNet refurb often includes a new electronics package. "As part of the avionics upgrade we do, we take all of the old, early state of the art radios and navigation equipment out and replace them with two new units. They give the pilot a moving map, global positioning, fuel management and a lot more information. It's the latest equipment. It takes about 130 pounds out of the aircraft and replace with eight pounds of gear."
The airplane Cassel was showing off belongs to the company. If you would like to buy it, they'll be glad to take a deposit. It's part of new venture to rebuild and remarket corporate jets. They have also gone into aircraft management. That's the outsourcing of operation, maintenance, management, staffing and routing of airplanes by the owners to a third party. That, and fractional ownership, the shared ownership of corporate jets, are the hot items in the private aviation business today.
Fred Cassel is from upstate New York. He studied food processing technologies in college, but soon enough, he had seen one can of beans too many roll down the line. "If somebody opens a can of creamed corn in Dallas, I think I can smell it up here," he said. So he joined the Navy and became an aviation structures mechanic. When he got out of the service, he finished his technical education at Spartan Aviation in Tulsa, learned to fly, got a commercial license and became a corporate pilot. That's where he met Roger Humiston. "The aviation community is still a pretty tight circle," he said. "Everybody knows somebody who knows somebody." Cassel joined Humiston three years ago.
The airplanes in the Best AeroNet hanger truly are things of beauty, but without engine to get them airborne, they are static art. On the west side of the airport is the company's jet engine operation. The building was already in place when the company moved to the airport and proved very well suited for engine operation.
The GE CJ610 is basically the same engine as the J85, which is on the T-38 trainer and the F-5 fighter. The difference is that the J85 has an after burner," said Cassel. There are 134 J85s lined up along the wall in wooden crates. "We're going to inspect them, rebuild them, whatever the mandate is, and then they'll go to foreign militaries."
Best AeroNet bought all the tools available from General Electric to service and maintain these engines. In the middle of the floor is an engine, with its tailpipe off,on a dolly. It doesn't look very big, and it seems remarkable that something that size, or even two engines that size, could power an airplane full of people though the air at 500 miles an hour. "From the stand point of what it takes to make an engine run here on the ground and at 40,000 feet, there is a very high level of technology and a high level of metallurgy, because of the temperatures.," said Cassel.
To maintain and repair the engines, the company has a complete machine shop. "We have welders here who could weld broken hearts," Cassel said. Another room houses the inspection equipment including the x-rays and magnaflux machines for inspecting metal parts. They also can treat parts with a ceramic coating with a plasma coating process. And in yet another space, "This is a very sophisticated acid bath cleaning process. The chemicals used and their concentrations have to be specific to the engine that we're doing."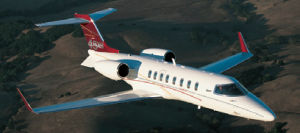 One of the newest innovations in the engine shop is the special equipment needed to handle an engine modification called a side spool compressor rotor. "It takes the overhaul life of the engine from 5,000 to 10,000 hours, and we're the only civilian shop in the country licensed to do it."
"The only shop in the country…." That's the kind of technology that Best AeroNet is bringing Grayson County Airport. It fuels the growth of the facility as it moves on with its civilian life, and the return of the jets will help fuel big dreams and big accomplishments for North Texas.
There had to be some concern in the minds of Roger Humiston and Kate Woolstenhulme, when they moved their company to Grayson County, but things have gone well. "A major factor contributing to our success has been the support of the Grayson County and Sherman and Denison economic development people," said Cassel. "All of them have been very supportive of our efforts, and welcomed us with open arms. We've also found a very talented and effective work force up here."
And it's going to get even better. All you have to do is stand on the runway and look up at the big blue canopy of Texas to see that the sky's the limit.