This article appeared in the Winter 2007 issue of Texoma Living!.
A Texoma New Year's Eve Affair
Not so long ago, New Year's Eve called for gentlemen in black ties, ladies in formal gowns, an elegant menu, exotic libations, and an orchestra with a chart of "Auld Lang Syne" on their music stands. In the Mulberry Room of the Grayson Hotel or the Ballroom of the Hotel Denison, revelers danced the night away until the clock's hands came together at XII, and then the band played, couples kissed, and streamers, confetti, and the toot of tin horns filled the air.
Those elegant old hotels are gone, but the memories are only tucked away in time, waiting to be brought out for another New Year's Eve. So come on in. It is five minutes to midnight; you are just in time to join the party and welcome in 2008.
Our Guests
Robert Minshew, Blake Klement, Joni Beamish, Ryan Klement, Anne Clark, Hal Clark, Honey Minshew, John Davis, J.D. Turner, Charles Buchanan, Rita Turner, Carol Davis, Edward Southerland
Production Manager for Texoma Living!: Edward Southerland
Photographer: Anne-Marie Shumate, Assistant: Colton Ward
Production Stylist: Carol Davis
Cuisine: Chef Cathy Zeis
Desserts: Renee Marze, Phoenix Cake Boutique
Libations: Barbara Akin, Commer Beverage Consulting
Formalwear: Susan Brown, Bridal Elegance
After Dinner Cigars: Max Beshears & Sheila Badgett, B&B Wholesale Cigar Co.
Floral Designs: Shannon Scoggins, Special Occasions
Location Assistance: Joni Beamish, Mystic Studios
Production Assistants: Sylvia Miller, Jordan Shumate, Melanie Shumate, Libby Ottman
Texoma Living! Liaison: Debbie Miller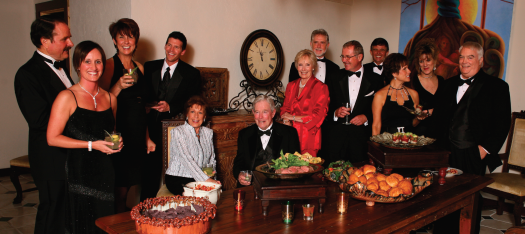 New Year's Customs & Traditions
United States of America
New Year's customs are varied and often New Year's Customs & Traditions have their roots in religion. Everywhere it is a time of renewal—of beginning again. Here in the U.S. a soul food of black-eyed peas and rice called Hoppin' John is eaten by some—it is believed that black-eyed peas are lucky.
Britian
In Britain the custom of first footing is practiced. The first male visitor to the house after midnight is usually supposed to bring good luck. Usually they bring a gift like money, bread, or coal, which is meant to ensure the family will have plenty of these things throughout the coming year. The first person must not be blond, red-haired, or a woman as these people are supposedly bad luck.
France
French New Year or Jour des Étrennes or étrennes or New Year's Poisson d'avril or April Day of New Year's Presents. In France dinner parties are thrown for the entire family. People exchange presents and greeting cards. People began sending fake gifts on April first which originally culminated in the New Year feast. Of course these gifts were only as a joke on those who previously had received their gifts on that day. Poisson d'avril, or April, fish is the name the French apply to one who is fooled or mocked on April first. Confectioners' windows display chocolate fish on this day and many friends anonymously send each other humorous postcards imprinted with pictures of fish. The French adopted the reformed calendar in 1582 which changed the beginning of the New Year from March 25 to January first.
Japan
The Japanese New Year Oshogatsu is an important time for family celebrations, when all the shops, factories and offices are closed. The Japanese celebrate the New Year on January 1, but they also keep their beliefs from Shinto, their primary religion. To keep out evil spirits, they hang a rope of straw across the front of their houses, which stands for happiness and good luck. When the New Year begins, the Japanese people begin to laugh, and this is supposed to bring them good luck in the New Year. Temple bells usher out the old year, and then comes the joyano–kane which is the "night-watch bell"—a series of exactly 108 peals. These, it is said, free the faithful from the 108 "earthly desires" lambasted in the Buddhist canon. For those who follow the Shinto religion the house is decorated with evergreens which are the symbol for eternal life, and bamboo which is the symbol for honesty. The Japanese New Year lasts for two weeks. These two weeks are full of hatsu, portentous "firsts", all to be favored with acute awareness and a sense of the bittersweet nature of first-time-ness. Hatsu–dori is the year's first cockcrow, Hatsu–mode the year's first shrine or temple visit, goyohajime the year's first day of business. The 2nd of January is set down for kakizome, "first writing". Each member of the family takes a turn dipping a Burch into freshly mixed ink and inscribing a favorite poem or proverb onto a long strip of paper. Paper lobsters are used as decorations in many Japanese homes—the lobster's curved back resembles an elderly person and every New Year's greeting includes a wish for longevity.
Greece
January 1st in Greece is also St. Basil's Day. St Basil was one the forefathers of the Greek Orthodox Church. He is remembered for his kindness and generosity to the poor. He is thought to have died on this date. New Year is even more festive and important than Christmas as it is the main day for gift-giving and for stories of St. Basil's kindness to children and the stories of how he would come in the night and leave gifts for the children in their shoes. Greeks have a Christian name that is the name of a religious figure or a saint. On the religious calendar each day is a different feast and people celebrate their name-day accordingly. January 1 is St. Basil's Day which is the day for those named On name-days and St. Basil's day people visit their friends and relatives and exchange gifts, not just for those whose name-day it is, but also for those whose name day it isn't. There are many special dishes that are prepared, but the most important dish is or St. Basil's cake. Inside the cake is placed a silver or gold coin. The cake is distributed in accordance to a strict order. The first piece is for St. Basil, the second for the house, the next for the most senior member of the household, down to the youngest member, and also including absent members. There may also be a piece of cake for the cattle and a large piece for the poor. Whoever finds the coin in their piece of cake will be lucky for the next year. There is always honey on the table and olive-branches, nuts, fresh fruit and other symbols of happiness and wealth.
Russia
In Russia, Santa is replaced with Grandfather Frost. He looks much like Santa Claus, but arrives on New Year's Eve with his bag of toys. He wears blue instead of red. Father Frost can punish any evil doer by freezing them. Often kids dance around the tree, tell rhymes to Father Frost then receive their presents. They have large decorated trees in the centers of the major cities. The most formal New Year's celebration is a party held at the Kremlin. As many as 50,000 tickets are sold in the weeks before the annual event. The Russian meal on New Year's is primarily meat and potato dishes.