This article appeared in the Summer 2007 issue of Texoma Living!.
Written and Photographed by John Frair
Jeff Gooden, 38, and Joe Simmons, 56, have got a good thing going.
For Texoma striper anglers the "be all to end all" in custom boats is a Falcon. Jeff Gooden and Joe Simmons own the Falcon Boat Company that builds striper bass boats in Sherman, and the two present an interesting contrast of age and expertise. Each man brings something special to the business. They complement each other nicely, and the result is a line of specialty fishing boats that are in demand in this part of the country.
Gooden is 38; he is in charge of assembling the boats and working with customers. Simmons, 56, runs the fiberglass operation that molds a boat's hull and deck. With only three other employees, they are hands-on boat builders rather than managers or executives. Falcon builds 40 to 45 boats a year, and they have to stick to a tight schedule to finish one boat a week for their dealers. There is a six-month backlog of orders, but the customers are willing to wait, because the boats are so popular.
While each customer gets a boat tailored to his needs, he still has to buy it from a Falcon dealer in Oklahoma, Texas, Arkansas, or New Mexico. "We build custom boats, but the boats still go through our network of dealerships," said Gooden. "Seventy percent of our customers are striper guides, and they have a particular way that they fish. Whatever the customer wants, he gets. I ask him to draw me a picture. I don't care how funny it looks; I can usually figure it out and will accommodate his needs if possible."
Falcon builds boats from 10 feet to 23 feet in length, but the most popular is a 23-foot inboard/outboard platform. Guides like the bigger boats because they can accommodate four to six customers. Private owners lean toward the 20-foot version, which is still large enough to take a family of four out on the lake for fishing or other water activities.
All of the Falcons have a "Deep V" hull construction. Gooden and Simmons say that once you get out of a bay and onto the open water on a lake the size of Texoma, the water gets rough, and you need a "Deep V" hull because it gives a smoother ride and cuts through the water much better. That is what the striper fisherman wants, as the striped bass usually live and feed in 30 to 40 feet of water.
Falcon Boats began in Houston in 1962 and moved to Gainesville in 1983. Six months later, the company moved again, this time to Sherman. Gooden's grandfather, Jodie Griggs, manufactured Whopper Stopper lures, and when the boat company came to Gainesville, Griggs contracted to build the boats at his Sherman factory. When the owners sold the business to an investor, Griggs leased the boat molds and eventually bought them outright to gain complete control of the design.
Gooden started working for his grandfather at 16, sweeping floors, painting parts, and any other odd job that helped the business along. Simmons built fiberglass shower stalls and then boat hulls for another company before joining Jodie Griggs Fiberglass. When the opportunity came along, Gooden and Simmons saw the potential and purchased the boat business.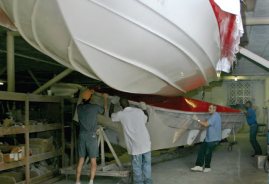 Many of their customers come to the shop during the production of their boats to take pictures and make scrapbooks of the process. "It usually takes five days, and they can see the step-bystep production of how their boat was put together," Gooden said. "Because we are proud of our product, we enjoy having them come to the factory to see their boat being built."
Simmons added, "We will never totally master what we do. One-at-a-time is the way it has been since locating here in Sherman in 1983. We are doing what we like to do, building great boats, and we love the company."
Falcon Boats
300 E. Sycamore
Sherman, TX 75090
(903) 868-1265
falconboat.com