This article appeared in the Winter 2006 issue of Texoma Living!.
After 38 years of marriage, the doctors P.T. and Sara Swamy had discussed most every subject—including death. Sara's mother, grandmother, great-grandmother, as well as her aunt, lived well past 90, and Sam, as Sara affectionately called her husband, was sure he would precede her in death, but a automobile accident took Sara's life on June 17, 2005, the day after her 62nd birthday.
Sam had told her on at least one occasion that he didn't know what he would do without her. With her usual humor and pragmatism she replied, "Sam, you'll be alright. Just read these books."
It has taken more than books, but caring friends and a close family have helped sustain Sam during the past year. Speaking about Sara both in present and past tense, his grief is as evident as his courage. "My initial reaction was to quit, but she wouldn't let me," he said. "I said, 'Sara, what do you want me to do?' She told me to carry on and to finish the building. She said I still have my kids and grandkids and a responsibility to the community. So we gathered our strength and went on."
The Swamys have three children. Son Ravi and daughter Priya are doctors, and Nithya, the youngest, will be one soon. She is in medical school at the University of Chicago, and Ravi is at Stanford doing a residency in plastic surgery. Priya, a Harvard graduate, is a dermatologist on the faculty at her alma mater. Sara had told them to go wherever they wanted, but always urged them to come home, to come home because the best people in the country were here, and when all is done, they very well may do just that.
Priya offered this reason for her choices. "It was a field I found would perpetually challenge and stimulate me throughout my career. In addition, as a child, I grew up with two ideal role models who were outstanding and respected physicians."
Her sister Nithya said much the same. "Growing up in a family of physicians, we were surrounded by medicine, whether it be the books on the shelves, my Playskool doctor's set or even in the conversations we had together. I appreciated how happy my parents were around their patients and especially the gratification they felt when they made a difference. As I grew older, I wanted to ensure I found a career that I would love and enjoy; something that I would look forward to each day, just as my parents had."
When they first arrived in New York, the doctors Swamy had eight dollars each. "We had nothing we could call our own," Sam said. "But we worked hard and experienced such a great outpouring of love from others. We know that the Good Lord blessed us."
They learned about Grayson County in 1974, when they received an invitation from Jerdy Gary, the mayor of Denison and chairman of the Texoma Medical Center board of directors. Sara was recruited to work with Dr. Don Freeman, a pediatrician who was ready to slow down a bit, and Sam would be the only plastic surgeon between Dallas and Oklahoma City. The young physicians decided to visit. A reception was held in their honor, and they were overwhelmed with the kindness shown.
The couple was looking for a good place to raise a family. Sara wanted her children to live somewhere without crime, crowds and cold. She wanted their children to have more room. She urged Sam to accept the offer, saying that if his practice wasn't busy enough, they would move again. "We were happy with our decision," said Sam. "Sara loved the people here, and if we had it to do all over again, there would be no changes."
Jerdy learned later that people in New York thought it was really funny that the doctors were heading to "wild" Texas on the invitation of some small-city mayor. But he's glad he wrote the letter. "Sara left a lasting mark as a pediatrician, a business woman and a mother. I ran into her most often at the health club where we'd talk about our families while riding exercise bikes. She built her life around her family."
That dedication to family was made known to Sam during their engagement. She told him that when he married her, he would be marrying her mother and siblings as well. When she got her first paycheck for $120, she sent money home.
Sara grew up in Coimbatore, India. The oldest of four children, she took responsibility for her family when her father died of esophageal cancer. Had she followed the custom in India, she would have married soon after his death. Instead, she applied and was accepted to medical school, secured a loan for her education from a local bank, and started classes at 15. She became a medical doctor at the age of 20.
"She was brilliant," Jerdy said. "Her youngest daughter would say that her mother had an amazing talent for providing accurate assessments even over the phone in the middle of the night."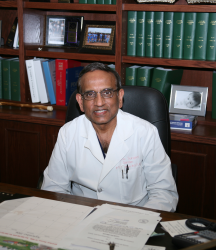 Sam agreed. "Sara had an innate ability to look at children—to gauge their way of breathing—and to know what was going on. She knew what pertinent questions to ask and made good, quick diagnoses. Even if a child came in with nothing but a sore throat, she would do a complete exam to be sure she didn't miss anything. It was her caring nature." She treated the children and educated their parents. Sam acknowledged that she wanted to alert them to what symptoms to watch for in a child with acute illness. She taught them how to observe and care for the children so that problems were caught early.
"She was so caring, compassionate and loving," Sam said. "She had a fantastic memory. She would know her patients' names, their date of birth, the parents' names, the names of all the brothers and sisters, and even the grandparents! She would laugh at me because I sometimes couldn't recall even my own patient's name!"
Nithya said that a nurse once told her that Dr. Sara had all her patients' phone numbers memorized. "My mom could thoroughly examine, shrewdly contemplate, effortlessly diagnose and treat in an expeditious amount of time," Nithya said. "It was because of these abilities that many parents entrusted her with the health of their children."
In addition to maintaining her own practice, Sara was instrumental in keeping the county's well-baby clinic going. She worked there tirelessly, refusing to take her salary; she used the money to purchase medicine for indigent families. "She was very compassionate and giving," said Charlene Howard, RN, director of nursing and women's health nurse practitioner at the Grayson County Health Department. "She poured out her heart to this community and contributed time and money to help children and their families."
Sara's talents weren't limited to medicine. Because she was never thwarted by a challenge, she tried and accomplished a great many things. She was named best athlete in medical school. She was elected homecoming queen. She could grow a variety of plants. She once installed a sprinkler system after reading a how-to book.
Nithya described a time when a house her mother owned received severe flood damage. Sara hired someone to conduct an assessment. When he started to crawl under the house, he felt something bump up against him. "He turned around to see my mother scuttling in right behind him," said Nithya. "He could not believe that this small woman in her suit was following him in. She told him to keep moving and that she wanted to see the damage for herself."
Sam said, "She could figure out how to do anything, and then she did it." Nithya echoed her father's words. "My mom was the kind of person who could handle anything and manage it flawlessly. She was not afraid of anything and would approach everything she did wholeheartedly.
Sara was a visionary with the business acumen to make astute investments. Sam Henry had a long-lasting business relationship with Sara through Chase Bank. "She had an amazing mind and was able to study the stock market or the real estate market and make sound decisions," the banker said. "She could be tough in her business dealings, but was always fair and would really dig in and understand the issues. I had such respect for her and her ability to keep track of so many different things and do well at each." Those varied talents eventually resulted in the plans for a new clinic, which Sara and Sam were to share.
"The clinic was started by my wife, much against my wishes," said Sam. His voice as soft and melodic as a lullaby, he lovingly recalled her persistence. "I tell her, 'Sara, I don't need a new office.' She'd smile and say, 'One day you'll know why you need it.' And she always proved herself right!"
At the time of Sara's death, the clinic was only about a third finished. Sara had been the mastermind behind the project. She had selected the site on a street now named Sara Swamy Drive, purchased the land, hired an architect, helped design the structure, determined the landscaping, and chosen the furnishings. An interior hallway holds a gallery of family photos, including early marriage snapshots showing a handsome couple obviously in love.
Her mark is clearly evident from the strategically placed doorway and office suites on the east side (an assurance of good luck in India) to the many details ensuring patient comfort. And typical of Sara's consideration for Sam, she insisted on a garage. She told him she didn't want him to get wet in the rain or feel cold in the winter.
Sara's office is maintained as it would have been had she lived, except neater, according to Sam. There are framed photographs of children and grandchildren. Her degrees placed unobtrusively on the wall. There is a shadowbox containing scissors and a ribbon from Medical Plaza's opening. There are flowers. There are awards. "She wouldn't have wanted the awards on the wall." Sam said.
In the area outside the surgery wing, Sam lovingly displays a large framed picture of a surgeon at work on a patient, with Jesus standing so close that His hand is resting on the surgeon's shoulder. Sara gave it to Sam just before she died.
"We believe in the Good Lord as our Savior," Sam said. "Things happen for a reason and there are some things over which we have no control."
Raised in the Hindu religion, Sam now attends the Methodist church, and he said he finds great peace and comfort there. "In my family we are Jewish and Catholic, and when the children were young, they went to the First Baptist Church here in Sherman," Sam said, smiling. "We all believe in Ghandi's teaching about simplifying. That there is one God, and people in different parts of the world call Him by different names. Like different rivers flowing into the ocean, we all join together in the end."
What would Sara say now that the building is finished? "She would appreciate me and say 'Sam, you did a good job'," he answered.
In addition to her aspirations for the clinic, Sara had a substantial role in building the Hindu Temple in Dallas. She actively volunteered at the Indian clinic there. She was a supporter of the Crisis Center, Austin College and the Salvation Army. In fact, Sam said, she took great pleasure in "dragging" him out to ring the bell in front of WalMart every Christmas! It was part of her desire to give something back to a generous community who had welcomed her and Sam at a time in their lives when they had very little.
Their partnership extended from family life to community service to private practice. "It worked because I treated her like she was my boss and she took care of everything for me," Sam said with a grin. "She would even select my tie, shirt, suit, and shoes for the day. The only time I wouldn't want her around me was while I was doing surgery because she was sure to tell me to tighten a stitch!"
Despite professional success, over the years Sara limited her practice to have more time with her children. "There was no rationale to the economics of it, but I could earn more being a plastic surgeon, and she wanted to be there for the children, so she was home with them quite a bit," Sam explained. "She always placed family first."
"She loved spending that time with her children," Sam said. "She was interested in their class assignments and what they were doing in school. She taught all of them that hard work, kindness and consideration for fellow human beings was most important."
Nithya recalled that her mother wanted each of the children to experience as much as possible from education, music, dance, and sports. She set aside time to take each of them to lessons and to attend their recitals or events. "I remember countless times when my mother would give up what she was doing to be with us," said Nithya.
Three important things Sara conveyed to her children, according to Nithya, were:
1.  "Relationships are vital. You should always be there for family and friends, as they will be there for you. Take care and learn from each other. It will only make you a better human being.
2.  No challenge is too great. Never give up. You can do anything that you set your mind to.
3.  Life is short. Stay open-minded and try new things. Whatever you do, go all the way. Take it in as much as you can and benefit from it."
When Sara wasn't busy being a wife, mother, doctor, or volunteer, she gardened. She loved flowers; especially roses. Sam said she could get lost in her garden and she treated the flowers like beloved children.
Sara was quick to laugh at herself, especially when she made a mistake. "I would frown when I made a mistake" Sam said, "but she would laugh at herself so heartily."
With others, she was an easy mark. "Tell her a silly joke," said Pryia. "She laughed most at the simplest of jokes," Laughter, everyone in her family remembers the laughter.
"Mom had the best and most contagious laugh, and the way to get her going was to be a little ridiculous," Nithya said. "Sometimes I would fabricate stories about all the outrageous men in my life, like a motorcycle rider who was in a gang. She would pretend to be upset and then she would laugh. Mostly though, she would laugh the hardest when any of us, including her, did something foolish or insensible."
According to Sam, the one fault Sara had was never being on time. "She was always on the go; never resting," said Sam. She would be at an appointment doing one thing and then have to be someplace else. Then she'd get in a hurry to make up the time."
Sara's sense of urgency was ever-present. Once she decided to do something, she'd start right away. Sam would encourage her to rest and put her feet up, but she wouldn't listen. "It is almost as if she had some intuition about the length of her life and didn't want to waste any time," Sam said. He recalled that she could watch a three hour movie in 30 minutes by fast-forwarding. Despite viewing the condensed version, she didn't miss a thing.
Sam intends to continue working toward Sara's dream of building a school in Coimbatore. She wanted to add a high school to the middle school. She was preparing to purchase the land and build a small free clinic. She wanted to set up a foundation so people in need could receive good medical care.
"I am who I am because of her," Sam said. "I always tell her I'm like a car, but you are the gasoline. She made my life more carefree; she was always there for me. If there was any problem, she was by my side. She stood by me. She could not have cared less for personal recognition as long as I was respected."
"I wish people knew of how self-sacrificing and fearless she was," Nithya said. "I wish they knew how intelligent and multi-talented she was. She had tremendous faith in people. She was consistently there for family, friends and so many others, yet always wanted to do more. She did not like nor want praise or admiration, but simply helped people because it was important to do. She truly succeeded in everything she wanted to achieve, to the surprise of many skeptics. She came from meager beginnings and, despite many challenges she faced along the way, flourished in life."
"If I had to choose one word to describe her, I would say 'extraordinary'," Nithya said. One day Nithya will talk with her children about their grandmother, saying: "I wish you could have known her because she was the most incredible person I have ever known. She taught me how to love, whether in family or in life. She taught me that as a woman, we have so many abilities and so much strength. I will tell them where she came from and who she became; how from such small beginnings she was able to accomplish so much. I will tell them of all her talents. But most importantly, I will tell them of who she was to me, my mom and my best friend."
Sara was described as the rock for her family, being present for them, always lending a helping hand, willing to listen or offer sensible advice. She asked her family to watch out for one another and take care of each other.
"You know, we don't come into the world with anything, and we don't take anything with us when we go," said Sam. "What we leave behind is what is important."
"I thank the Good Lord for giving her to me," said Sam. "He knows what He's doing and I have to learn to live with it. I am so blessed with great kids, a fine community and people who care."
If Dr. Sara Swamy were present, she would quickly redirect the focus of this story to her family. Of all her accomplishments, their success is what she would have deemed most significant. It is that generosity of spirit and unquestioned priority that endeared her to so many and made her contributions to our community so deeply appreciated. She leaves behind a legacy of love and service. And, of course, grandchildren, who perhaps will, grow up to save lives and install sprinkler systems with the zest and skill of their grandmother.