Verna Blood is the queen of potluck casseroles at Grace Lutheren Church. Her cooking is greatly anticipated and she always leaves with an empty dish.
3-Layer Corn & Green Bean Casserole

1st Layer
-24 ounces (2 cans) French style green beans, well drained
-24 ounces (2 cans) whole kernel corn, well drained
-3 cup onion, minced
-Salt and pepper to taste
Mix vegetables, season and spread
in 9 inch by 13 inch casserole.
2nd Layer
-1 can cream of celery soup
-8 ounces sour cream
-1 cup American or cheddar cheese, grated
-3 cup slivered almonds, toasted
Mix first three ingredients well and spread over layer of beans and corn. Sprinkle with almonds.
3rd Layer
-1 sleeve Ritz crackers, crushed (a Zip-lock bag and a rolling pin will do the trick)
-4 ounces (1 stick) butter, melted
Mix crushed crackers and melted butter and use mixture to top dish. Bake at 350° for 30 minutes.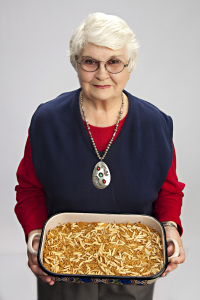 Originally from Minnesota,Verna Blood has been in Denison fifty-two years. She is a retired physical education teacher and taught for the Denison ISD. Cooking led her to work at the former Texoma Lutheran Camp and also for the Behavioral Health Center in Sherman for five years. She enjoys spending time with her two grandchildren and swims daily.