This article appeared in the Spring 2008 issue of Texoma Living!.
Saturday, February 2, 2008
CASA: Court Appointed Special Advocates
Sherman Municipal Ballroom
CASA of Grayson Co. is a service organization dedicated to area children who have found themselves in the court system, not for what they have done, but as victims of abuse and neglect. The goal of CASA is to represent these children as Guardians ad Litem to protect their rights and to ultimately place each into a loving and protective home. CASA volunteers are trained and sworn as officers of the court. They work with attorneys, social workers, Child Protective Services, and other professionals associated with the case.
Chocolate Indulgence is the organization's annual fundraiser. For information about helping CASA's mission, contact Executive Director Jana Garner, (903) 813-5400 or visit their website at www.casagrayson.org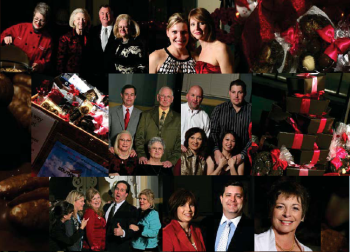 Sponsors:
Grayson Home Health
Tim & Judy McGraw
Red River Title
Gregg & Virgie Holbrook
Jim Walter Homes
Judge Lauri Blake
Lindon & Phyllis Hicks
Ebby Halliday Realtors
Grayson Co. Title Co.
Ben & Nancy McKinney
Howard & Bettye Haun