Phill Haddock taught vocational drafting at Denison High School for twenty years, and while he remembers many of his students, Charles Piazza stands out. "I saw very quickly that he had people expertise, he could grasp information quickly, and he had integrity and he was honest. He talked about ideas, and that impressed me," Haddock said. "I know his father's reputation too, so I knew this kid had the personality to be a builder."
It's definitely retro with its arched barrel roof and attention to architectural detail. "It has some of the characteristics of traditional old gymnasiums with bowstring trusses and a barrel vault," said Charles Piazza, who has been "Chip" to one and all since he was a kid. He was talking about the new Parkside Baptist Church Family Life Center in Denison, the most recent project for his company, Piazza Construction Ltd.. "What makes it unusual is an owner willing to invest that kind of money and energy in a facility that pretty much tops anything around here."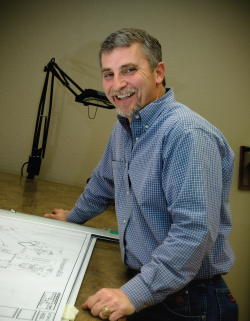 The thirty-thousand square-foot, two-story building features a gym with full size basketball and volleyball courts, locker rooms and showers, a café, and a commercial kitchen on the first floor. "I'd say there's not a restaurant in town with a better kitchen," said Piazza.
On the upper level, a running track circles the gym below and is flanked by fellowship and meeting areas, classrooms, aerobics and exercise rooms with fitness equipment, craft rooms, and a youth room with video game stations. Translucent panels set in a barrel acoustical-decked ceiling flood the gym with natural light. "It's one of the nicer projects we've done," said Piazza. "The owner didn't spare any expense on quality. It was all top flight."
Piazza is living his building dreams, taking projects from conception to completion, and having the opportunity to "do it right," to assert the craftsman's pride in his work. "Most of the time it's just about the square feet," he said. "This time it was more than that."
Call it sawdust in his veins. Chip Piazza had known he wanted to build things since he was a kid. There was no doubt construction would be his future. "My father, Pete, was a residential contractor, so I was around building all the time. I liked drawing house plans in the drafting program in high school. Building picked me, I didn't pick it," he said. "I pretty much knew what I wanted to be, being around construction so much as a kid."
Piazza credits the influence of Phill Haddock as one of the factors that led him into a building profession. Haddock's classes were unusual in that he expanded the educational experience beyond the classroom or the drafting lab. "I had many students who held full-time jobs at places like Texas Instruments, Fisher Controls and other businesses around here," Haddock said. "I managed to get my students the red carpet tour at all of these industries. My kids got to go into places and look at what was going on and how drafting was related to real industry and construction."
After high school, Piazza went to Texas A&M. In College Station, he majored in construction, and he spent summers with North Texas Construction in Denison. He never particularly wanted to build houses. He was looking for something bigger, so he decided commercial construction was the way to go. On graduation, his summer job turned into a full-time opportunity, and Piazza stayed with North Texas Construction for several years. But working for someone else was not on Piazza's long term agenda.
"I went through the construction program at A&M and pretty much knew I wanted to have my own company. I was there trying to learn everything I could," he said. "In 1995, I branched out and went on my own."
Piazza started out doing industrial construction. "Industrial is mostly plant maintenance, at least that is the part we were into," he said. "We did some interior renovations and add-ons, but most of it was maintenance work. Most of the time it turned out to be whatever [customers] didn't want to do themselves or couldn't motivate their guys to do."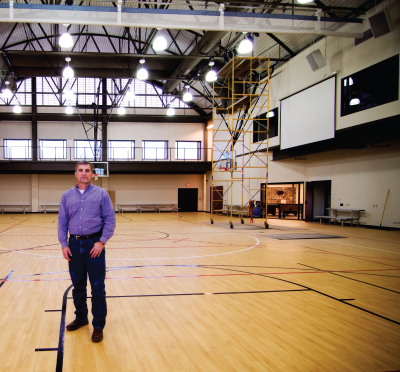 Fixing things that were broken was not what Piazza wanted to do either. He wanted to start at the bottom and build up, and since residential building didn't interest him, that meant commercial construction, ground-up construction and major renovations of existing buildings. At the highest of the high end, think Cowboy Stadium or the Empire State Building. But you don't start there.
"My first commercial job was for Sivells Bend ISD north of Gainesville in 1998. It was an addition to a gymnasium and a complete renovation of the existing gym that cost about $200,000." Piazza said. "It was a start for us, and it went very well. The district was pleased, we were pleased and we managed to make a little money."
Sivells Bend was the first job he got, not the first job he tried to get. "I bid on a lot of them. The ratio used to be one to ten, but right now, with the economy, it's probably one to twenty."
From that point on, despite the usual tough times most small businesses encounter along the way, buildings and business have been going up for Piazza. From one employee and $200,000 in annual sales, Piazza Construction Ltd. had grown to thirty employees and sales of $25.5 million in 2008.
Construction has been a good fit for Chip Piazza, with his love of building and the sense of accomplishment on seeing a finished product that never fades.
"My favorite part is to see structures come out of the ground. You go from concept on paper to actual tangible structures," he said. "Being able to orchestrate all that and put it together is pretty challenging and fun at the same time."
Some projects are routine, others challenging indeed. From banks to churches and schools to parks, each job has its own qualities. The Early Childhood Development Center for the Chickasaw Nation of Oklahoma, a twenty-one thousand-square foot, $5.6 million project, was one of Piazza's most demanding. "When you stepped into the building, you would have thought you were in Disneyland. The level of detail was over the top," he said. The company's biggest job to date was a $6.5 million middle school for the Alvord ISD in Wise County.
The pressure to meet deadlines is a constant challenge, and weather often offers another. "In the spring of 2004, we began a school project in Mansfield, and it didn't stop raining on us all year long," he said. "Even though we were contractually compensated for almost ninety inclement weather days during a twelve-month period, it was still extremely hard to be productive. We were constantly demoralized by the rain. Every day seemed to be one step forward and two steps back."
And those jobs he wouldn't do again? He has a simple answer: "Jobs that lost money." And as for dream job, it's not the next Cowboy Stadium or Empire State. "I'd like to get into multi-structured, mid-rise type stuff." Mid-rise office buildings are interesting, but not the stuff real dreams are made on, and when pressed, Piazza expanded his sights. "This is pretty much pie in the sky, but I have always marveled at the old gothic cathedrals and have always thought it would be awesome to build a structure that lasts for five hundred-plus years."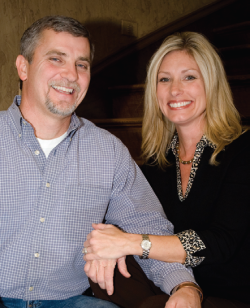 Piazza married his wife Rhonda in 2005. His son and daughter and one of Rhonda's sons attend Denison High School. He loves the outdoors and makes regular trips to his ranch near Quanah to hunt and chill out. At heart, he's a hometown boy. Most of his jobs lie within two hours of Denison, and he likes it that way. "I've done a job in Abilene, but we've been fortunate enough to keep everybody busy at home. At the request of clients, we've bid jobs in Round Rock and Austin, but we didn't get them."
In August, Piazza Construction moved into new quarters befitting one of the largest construction contractors in Texoma. Despite the economic downturn of the past year, Piazza's business remains steady in a highly competitive market. "I've been blessed, that's for sure," he said. "I'm pleased I decided to stay here in Denison and put down roots," and a few foundations as well.