This article appeared in the Spring 2007 issue of Texoma Living!.
How the Digital Ag
e is Causing Mass Confusion in the Mass Media
By Ryan Sanders
Texoma television has changed, and more change is on the way. Deciphering the channel landscape is daunting. It is like trying to follow one of the latest convoluted thrillers, provided of course, that you can figure out what channel it is on. Doubtless someone out there in TV land understands the intricacies of the tube world today, but the rest of us are left to peer at our on-screen guides, scratch our heads, and try to understand the differences between digital and HD, plasma, and LCD.
"A child of five would understand this. Send someone to fetch a child of five." — Groucho Marx
When you turned on your television set on January 1, 2006, you knew what to expect. There were two local television stations, Channels 10 and 12. If your antenna was high enough (yes, some people still use antennas) you might get something out of Dallas. If you had cable or a satellite, you got Big D and Cowtown and various in-betweens, and you knew where to find One Life to Live when you wanted to watch.
Fast forward a year. The local market now boasts five networks—NBC, CBS, CW, FOX, and MyNetworkTV. (Note: The WB and UPN merged to create the CW network.) That's five networks, but still only two broadcasters, 10 and 12.
Programming from one of the old standbys, KXII -TV Channel 12, can now be seen over the air on Channel 12, in high definition on UHF Channel 20 (which a TV may or may not recognize as Channel 12.1), in the Channel 3 slot via cable, and on cable HD Channel 460. Confused yet? There's more. The numbers and available stations all change if a TV receives satellite programming. And then there's KTEN-TV Channel 10.
Actually everyone gets more TV today that ever before; unless they don't. Sometimes it depends on exactly where you are. Viewers who subscribe to Cable One in Grayson County are considered part of the Sherman/Ada/Ardmore television market and receive a different lineup than subscribers in Fannin County, who are considered part of the Dallas media market (never mind that Grayson County is closer to Dallas than Fannin County).
Likewise, DirecTV satellite subscribers in Fannin County get Dallas stations, while DirecTV subscribers in Grayson County, being outside the Dallas market, don't receive those stations. Instead, they receive network feeds from New York. DISH subscribers used to get ABC and FOX from Dallas, and now they get FOX from KXII and ABC from nobody, unless they go through a third party and pay extra.
Not only are the channel choices puzzling, the programming on each channel itself is fluid. For Grayson County Cable One subscribers, programming on Channel 5 comes from KXAS, the NBC affiliate in Dallas. That is, until the instant that KXAS programming differs from the programming on KTEN, the local NBC affiliate. When that happens, KTEN programming is "superimposed" over the KXAS programming. Most viewers won't know what station they are watching until a commercial break.
"I read in the newspapers they are going to have 30 minutes of intellectual stuff on television every Monday from 7:30 to 8 to educate America. They couldn't educate America if they started at 6:30." — Groucho Marx
It's Going to Get Worse Before It Gets Any Better
So what hope is there for the average TV viewer? Has television—with its enormous cultural saturation, big money advertising, explosion of channel options, government regulations, and emerging technology hurdles—left us all irrecoverably behind?
Dallas TV critic Ed Bark says yes—well—maybe. "It absolutely is going to get a lot worse before it gets better. Depending on the age of the viewer and how easily they can navigate this stuff, it might be really frustrating for some people." May we have a show of hands on that one?
Bark, formerly the Dallas Morning News television critic who now has a media news and review website called UncleBarky.com, has covered North Texas television since long before the channel confusion took over the set, even before cable came along. He says the most mystifying problems for viewers will likely involve the more obscure networks. The big networks will retain their familiar channel slots and remain fairly easy to find, but the newcomers such as Versus and CW will present a bigger challenge.
"The NHL All-Star game (played on January 24, 2007 in Dallas) was on Versus," Bark said. "There were probably people in the city where that game originated who didn't have it or didn't know where to find it." Sports programing, something many viewers are addicted too, seems particularly susceptible to the channel churn.
This year the Dallas Stars games will be broadcast on three separate national networks and one independent station in North Texas. The Dallas Mavericks will bounce through six national network channels, not including the HD options. The Texas Rangers will be seen on three channels, and the Cowboys—well pardner, the Pokes will ride into living rooms on five different broadcast signals this year. Almost half of the Mavs, Rangers and Stars games are not broadcast on over-the-air channels, and less popular sporting events like soccer, tennis, local college games, and Big XII events are, at best, hard to find, at worst, not broadcast at all.
"I must say I find television very educational. The minute somebody turns it on, I go to the library and read a good book."—Groucho Marx
Just imagine a car dealer inviting you down to his Ford, Chevy, Toyota, Kia, Honda, Dodge and VW dealership. That is what might happen if auto dealers went "digital."
Digital is the biggest reason behind the growing broadcast maze, and it's a word that baffles most TV viewers. "All these new networks are made possible with new digital technology," said Rick Dean, general manager at KXII in Sherman. "All this was not possible in an analog world."
Does it matter that most viewers don't really know the difference between analog and digital? Not really. If a picture appears when you turn on the set you're good to go. Besides, as we will discuss later in this piece, analog television is going, going, almost gone anyway.
This summer, Dean's station began broadcasting two new signals—FOX and MyNetworkTV (locally branded as FOX Texoma and My Texoma — in addition to CBS. Such diversification is called multicasting, and it's a new idea in television. Akin to a Ford dealership suddenly offering Chevys and Toyotas, multicasting is possible because the new signals are carried over new digital bandwidth which allows for more content.
The advantage for TV stations is that they can provide more diverse programming, delivered to the specific interests of more viewers, and gain a bigger market share, which in turn means more advertising dollars for the television stations. The drawbacks lie in the confusion over new signals and how to receive them, conflicts with heretofore unchallenged stations, and the eventual demise of all analog TV sets. Let's consider those issues in reverse order.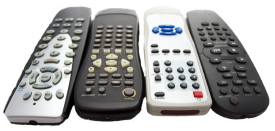 "Hello, I must be going, I cannot stay, I came to say, I must be going. I'm glad I came, but just the same I must be going."—Groucho Marx
Get ready to say good-bye to your old analog sets. They are going, going, and will soon be gone. Since the invention of the television, signals have been broadcast on analog frequencies. Even signals received via cable or satellite systems were analog signals. In recent years, technology has emerged that allows television stations to broadcast digital signals. This is attractive because the quality of the images and audio is superior to analog. Digital also holds the promise of something called signal compression, which allows more content to be transmitted than with analog.
Digital TV sets can receive digital signals via cable, satellite, or antenna. Most televisions produced before 1996 are analog and can't receive digital signals at all without some help from a peripheral device called a set-top box or converter box. This has caused consternation for a good many TV buyers who bought sets in recent years that claimed to be "HD Ready," only to get home and learn that "HD Ready" does not mean the set can actually receive digital signals.
The problem is going away. The Federal Communications Commission mandated that all TV sets sold after March 1, 2007, must be able to handle digital content, and the entire broadcast industry has been ordered to launch digital signals, shift their content to those signals, and shut down their analog signals by February 17, 2009. After that date, analog TVs without a converter box will not be able to get any programming from cable, satellite, or antenna. The federal government will reclaim the entire analog spectrum, use some of the frequencies for emergency and civil services, and auction the remaining bandwidth to others, most notably cell phone companies.
Wake Up. We're Half Way Through
"If I held you any closer I would be on the other side of you."—Groucho Marx
With local stations suddenly able to carry more affiliate programming, it stands to reason that more competition will arise. Such new competition is governed by FCC regulations that carry names like "non-duplication protection" and "significantly-viewed station status." To understand all of the FCC rules would require the aid of the five-year-old again, and he has gone to bed. Suffice it to say that the FCC and networks themselves are careful about putting similar stations in a market together, hence the "superimposed" KTEN programming over KXAS's signal.
"It's similar to a franchise restaurant chain having two locations near each other," Cable One General Manager Claude Edwards said. "Networks don't want similar stations within 50 or 60 miles of each other."
"Well, Art is Art, isn't it? Still, on the other hand, water is water. And east is east and west is west and if you take cranberries and stew them like applesauce they taste much more like prunes than rhubarb does. Now you tell me what you know." — Groucho Marx
So you want to watch CSI on CBS. How to find it? Depending on geography and how you receive programming, you may have as many as three choices—KXII 12 from Sherman, KXTX 11 from Dallas, or a CBS HD digital channel.
Or say you want to share a laugh with a buddy over a commercial you saw last night while watching 24. "Did you see that car commercial during 24 last night?" you ask innocently.
"No," says your buddy. "I don't get local commercials. I was watching it on satellite."
The Digital Lowdown
The options for programming are myriad—combinations of the values assigned to your TV set by geography, method of transmission, and digital capability. So how can a mortal conquer the maze? There are three straightforward, if not easy, steps.
1. Know your set. Can your television receive digital programming? One give-away is the presence of x.1 channels. If your set displays channels like 12.1 or 8.1, it's a digital set. These x.1 channels are actually the digital simulcast versions of the analog channels you know and love broadcast on other frequencies and "converted" by your set to "set next to" the analog stations on your dial. For instance, KTEN's digital channel is broadcast on UHF Channel 26. However, KTEN doesn't promote its digital product as "Channel 26." Most digital TVs use something called a PSIP code to identify the channel as the KTEN 10 digital counterpart and rename it Channel 10.1.
2. Ask the operator. The days of a two-page TV Guide layout giving you all the information you need for the week are probably long gone, but your cable or satellite provider can be a wealth of information, as can local stations themselves. If there is any confusion about your channel lineup, check your provider's website or call their offices. "We definitely have our job cut out for us in educating viewers," KTEN General Manager Asa Jesse said. "We've got a big section of our website that has all the resources and primers on what is going on and links to government sites. The government has also said that it's going to start an education program in the next six months to a year."
3. Be flexible. Buddha said, "Everything changes; nothing remains without change." With new technologies being developed and new rules being written every year, the only constant thing that the television industry will do is continue to change.
There is a bright side to all this pain and suffering—more choices. The Texoma-area resident is waking up to a whole new broadcast landscape—receiving three new local channels and several more new channels from Dallas. At every turn there is more and more. Whether more and more is better and better, or just more and more, is up for grabs. Now, if they would just get better shows.
"And I want to thank you for all the enjoyment you've taken out of it."—Groucho Marx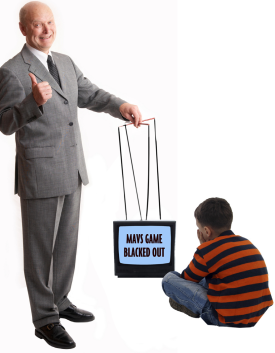 Must Carry and Blackouts: How Big Business Controls What You See, and Don't See
Must Carry Rules
Must Carry Rules stem from a Supreme Court decision in 1997 that mandated that local programming should be made available via cable to local viewers. This is called local-to-local. Feeling the pinch from burgeoning cable networks, local stations insisted that cable's moves in the 1990s to replace local with non-local content threatened the viability of free broadcast television. They argued that the community good was being fleeced with the removal of local news and other programming. The FCC agreed and established Must Carry Rules that required cable providers to carry programming from local stations instead of or in addition to national-only network feeds. As yet, there are no must carry rules for digital signals.
NFL Blackouts
The blackout rule is unique to the NFL. No other professional sports league has such a rule. The decree says that if an NFL game is not sold out, the home team can deny television broadcast rights to local stations and affiliates, protecting the team's revenue from ticket sales. Most of the Texoma area lies within the 75-mile radius of Texas Stadium affected by this rule. Luckily though, on the rare occasion of a Dallas Cowboys blackout, much of the area can also pick up something called a "distance signal"—a broadcast from the same network from its Oklahoma City affiliate. And satellite subscribers may receive national network feeds that are not connected to local affiliates and therefore not blacked out.
-Ed Southerland
TV's Top Ten Shows
October 1959 to April 1960
1. Gunsmoke CBS
2. Wagon Train NBC
3. Have Gun Will Travel CBS
4. The Danny Thomas Show CBS
5. The Red Skelton Show CBS
6. Father Knows Best CBS
7. Sunset Strip (tied for 6th) ABC
8. The Price is Right NBC
9. Wanted Dead or Alive CBS
10. Perry Mason CBS