This article appeared in the May-June 2010 issue of Texoma Living! Magazine.
John Lamb traded a degree in political science for credentials from the New York School of Dog Grooming and he hasn't looked back. From the Affenpinscher to the Mastiff and the Yorkshire Terrier, John Lamb is the dog's dog groomer. With combs and clippers, he has provided many a canine the look that makes them happy to strut their stuff. When he graduated from Austin College with a degree in political science, Lamb thought he was on the path to law school, but first—there were any number of things that got in the way of Lamb and the law, and eleven years later, after working in several retail businesses, he decided to follow his heart.
"I always loved dogs," he said, so it was off to the Big Apple and the New York School of Dog Grooming. It was dogs and nothing but dogs from eight in the morning until ten at night, with just enough time off for a bite to eat.
Lamb opened Big Dog Little Dog in Denison and hasn't looked back. He now has four full-time groomers working with him, and he stays booked solid. "We're all about the dogs here," he said. "No retail area for the 'parents.'"
Anxiety and nervousness sometimes play a role in a dog's behavior while it's at the groomers, but Lamb's persistence and consistency help ease new clients. "No muzzles here. Love, patience, and patience work 98 percent of the time. We like for a groomer to have the same dog each time, which helps them get comfortable and easier to handle. Biting is an occupational hazard, but we don't keep aggressive dogs here."
Big Dog Little Dog may be familiar from the well-known children's book by P. D. Eastman, but that's not where Lamb got the name. "It's after my two dogs," he said. "Liku was a chow-chow and JT Slick was a small rat terrier." Liku and JT Slick are remembered with a portrait that hangs in the studio.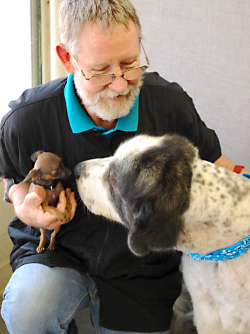 Lamb and his four assistants can see an average of ten dogs each day—fifty Fidoes a week. Even then, getting an appointment for your dog is no sure thing. "We have a waiting list for new clients. Seventy five percent of our clients are standing appointments."
If Spot does get in, he can expect an experience that is, well, "logical." Roughing in is the combing and cutting that takes place before bathing—"It's silly to bath all that hair, then cut it off," said Lamb—and everybody gets a bath. Each breed is bathed and groomed differently. All dogs have cards that contain their grooming information and any special needs. The length of time it takes depends on the breed and on what they're having done. "Rough coats are the best to work with–a terrier, a poodle or a bichon frise," said Lamb. "The soft coats are fly-away and need a lot more attention and work; the Maltese has the softest coat.
"One of the strangest requests I ever got was for a long-coated dog whose owners wanted all the legs shaved because leaves were being brought into the house. It made sense, but looked silly. The most difficult job I've had was a Shih Tzu with maggots. Thank goodness I haven't had another like that since," Lamb said. "The Bedlington Terrier has the most detailed cut. That breed takes eight different blades, then scissoring. Scissoring is an art, and it takes years to be experienced; it's like sculpting."