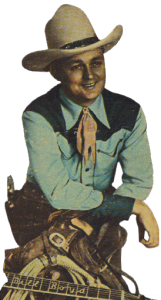 Bill Boyd was born near Ladonia, in Fannin County, in 1910. He learned to play guitar with cowboys around the campfire and broke into radio in Greenville in 1926. When the family moved to Dallas in 1929, Boyd took his guitar and singing style first to WFAA and then to WRR where first records of Bill Boyd and His Cowboy Ramblers were heard.
In 1934 he moved the band to San Antonio and had hits with "Under the Double Eagle" and "Going Back to My Texas Home."
Click here to hear nearly 200 of Bill Boyd's recordings courtesy of The Internet Archive.
Bill Boyd and His Cowboy Ramblers grew to 10 musicians in the 30s, and eventually, as it must to all singing cowboys, Hollywood called. Boyd made six "B" oaters during the 1940s, including Raiders of the West and Prairie Pals.
Bill Boyd more or less gave up performing in the 1950s and became a popular DJ on WRR. He is in the Texas Western Swing Hall of Fame.
Learn more about Bill Boyd at CMT Artists.