This article appeared in the Spring 2008 issue of Texoma Living!. They hindsight is 20/20. Consider that Circuit City has been out of business since early 2009.
by Anna Sebesta and Chelsea Chappell-Cox
Ladies and Gentlemen! Texoma Living! presents three rounds for the Electronic Championship of Texoma. In the Sherman Town Center, sporting the blue and gold sign, the current Texoma Big Box Electronics Champion—Best Buy. The challenger, in Sherman Commons, wearing red and white—Circuit City.
Both Big Boxers are ready for the competition, dancing back and forth on their toes, running ads and offering special bargains. Texoma Living! dons the referee's black and white to see which one of these electronics powerhouses carries more weight with consumers. They step to the middle of the ring. They touch gloves.
The bell sounds. Fight!
Round 1
Best Buy dodges a punch from Circuit City and responds with a quick right hook, which misses its target. Best Buy and Circuit City call it a draw when comparing the XBOX 360 HD DVD player, coming across at an evenly matched $179.99.
Round 2
Best Buy levels Circuit City in the Sony Playstation 2 comparison, beating Circuit City's $149.99 with a lower $129.99.
Round 3
Circuit City answers with a hard right uppercut and the Sandisk 2 GB Sansa e250 MP3 player for $89.99 (after $30.00 rebate) compared to Best Buy's price of $99.99, leaving the blue and gold rolling on the floor.
It looks like it is going to be a draw. Neither fighter scored a knock out. The judges are marking their scorecards. So who has the stronger arm when it comes to prices? While waiting for the results, we asked the trainers to see what they thought about this epic set to.
Don Symmons, the office manager of Circuit City in Sherman, said they watch competitors' prices weekly, and if a competitor offers a lower price, Circuit City will match it and go 10% under. Kevin McMullen, general manager of Best Buy in Sherman, said, "We want to be the lowest price possible. We don't want our customers to walk." Best Buy will match any competitor's price 100%.
Yells come from the crowd that gathers to see the outcome of this close match. While impressed by the comparable prices, the fans know there is more to take into consideration. Price is not the only thing that matters here. James Sebesta, a 16 year-old game enthusiast, pulls for the blue and gold. "Best Buy has better customer service," he said.
Daniel Hook, a freshman at Austin College, alternates between the two sides. "Best Buy has a larger selection of electronics, but Circuit City is better for computer games."
Another fan also fluctuates between the sides. "It's all about how you're treated," said Liz Wilson, a 21-year-old Austin College student. "It just depends on the people."
One fan who favors the blue and gold is a Hardware- Geeks.com/ spokesperson who, in an online article, compares his shopping experiences at both stores in the New York area. After buying several things and returning them, he found the friendlier store to be Best Buy. Circuit City questioned his reasons for returning products and tried to get him to buy things he did not need. His support goes wholeheartedly to the blue and gold champion.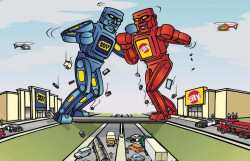 Take a look at the statistics on each big boxer. According to BIGresearch, an online marketing research company, 33.7% of 7,982 consumers polled in a recent online survey preferred Best Buy, while 9.3% preferred Circuit City (Wal-Mart served as another option in the online poll). Number of stores: Best Buy has 750 in the US and Canada, compared to Circuit City's 623 stores.
In the 2003 fiscal year, Best Buy's revenue was $20.9 billion compared to Circuit City's $9.95 billion. An article on Best Buy's website reports an increase in revenue of 11% in December of 2007. Circuit City reports a decrease in sales of 8.9% for December 2007. On January 13, 2008, the Best Buy stock price was $44.20 and Circuit City's price was $4.18.
Because of its prominence in the electronics ring, manufacturers see Best Buy as the place where their products will get the most attention according to Stephen Baker, vice president of industry analysis at NPD Group (a market research firm) as quoted in a USA Today article.
The raw numbers do not bother Symmons, who said that having Best Buy right across the street is actually an advantage to Circuit City. He said this gives customers an opportunity to compare the two and to "choose the store with the best customer service and the most involvement in the community." No one at Best Buy was available to comment on this theory.
The match between the two stores for the consumer dollar began over 10 years ago. Circuit City, as the older of the two, got a head start in training, but Best Buy surpassed its numbers through aggressive marketing in the mid 1990s. Circuit City is answering this with a round of punches by revamping the look of old stores and building many new ones across the US (including the new one in Sherman Commons). This new look for the stores (called "The City") is, according to executives, a test layout. Elements may change in future store designs.
The new stores are smaller than older Circuit City stores. Circuit City no longer carries appliances, allowing for the smaller size and a focus on electronics. The idea is to make this boxer more toned for the fight by losing excess fat.
Symmons likes the smaller size of his store. It allows him to cut out products that are not selling and focus on the products that do sell. He said this smaller size allows him to see the entire store in a glance, so that he can be aware of any problems. With a larger store, this would not be possible.
Since the new store in Sherman opened, Symmons reports that business is going well. The red and white of Circuit City jabs and ducks punches aimed by the blue and gold of Best Buy. Only time will tell if the new design of Circuit City stores will help profits on the national level and earn Circuit City the title of best electronics retailer in the arena. Market experts speculate that it will, but it will take time for revenues to increase. In the meantime, Texoma residents can enjoy watching the close match between these power punching big boxers and cheer for their favorite.
Best Buy Sherman Town Center
823 N. Creek Dr., Sherman TX 75092
(903) 870-1837
www.bestbuy.com
Mon-Sat 10am-9pm; Sun 11am-7pm
Circuit City Sherman Commons
4127 Hwy 75 N., Sherman TX 75090
(903) 892-8219
www.circuitcity.com
Mon-Thu 10am-8pm; Fri-Sat 10am-10pm
Sunday 10am-8pm