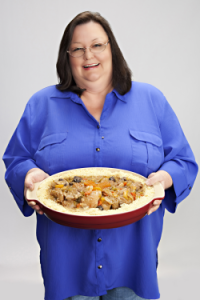 Deb Montgomery gets a lot of attention when she arrives at a church potluck. Her reputation for absolutely deee-licious casseroles is legend. So, we asked Deb to put together one of her all-time favorites for us.
Apricot Chicken

-10 boneless, skinless chicken thighs
-2 cups mushrooms, sliced
-1 large onion, peeled and roughly chopped
-2 carrots, diced large
-2 teaspoons dried thyme
-1 rib celery with leaves, sliced
-1 package onion soup mix
-1 can (about 11 ounces) apricot nectar
Place chicken pieces on the bottom of a crock pot and sprinkle with the onion soup mix. Add apricot nectar and top with vegetables and herbs. Cook on low setting for 6 to 7 hours or until the chicken is very tender. Serve over couscous or rice and garnish with diced apricots.
Born and raised in Sherman, Deb Montgomery and her husband Jerry have six adult children and twelve grandchildren. She attend St. Stephens Episcopal Church in Sherman. Deb spent 30 years as a real estate consultant and escrow closer. These days, she is happiest when in the kitchen or arranging floral designs.