When you create something consistently good and price it fairly, the word gets around. Angela Boedeker opened Angela's Café in a small storefront on Denison's Main Street in 2007, and things quickly got out of hand. At lunch, the place was overflowing with hungry customers. The dining room was so crowded patrons bumped elbows with their neighbors at the next table. The solution was a move to a new, larger restaurant on the corner of South Austin and Highway 69, on Denison's south side.
Even her biggest fans were nervous about the move off Main Street. "I've had so many people tell me I was making a mistake," admitted Boedeker, "but when they know the circumstances, they usually agree that this is a very positive move."
It was not just a space thing, although that was part of it. "Our small café was just packed every day, and people had to wait to get a table. The kitchen was much too small, the utility bills high, and the rent higher than the payments on this new building," Angela said.
The new and improved Angela's Café is easily three times the size of the old place and has good parking. The art gallery atmosphere of the other location has been carried over and expanded. Denise Call, Boedeker's daughter, spent weeks painting murals and adding décor to the new space. Brent, Angela's son, also helps out.
"The kitchen, that's what I'm excited about," said Casey Kidwell, Boedeker's partner and sous chef. "The old location was like cooking in a submarine!"
With the expanded hours (Angela's now serves dinner) comes a bigger menu and an increased catering and take-out business. "We do a very active take-out business. Of course, my casseroles are the most popular items," said Boedeker . Chicken spaghetti, chicken or beef enchiladas, and King Ranch chicken-and-tortilla casseroles are favorites, as are sausage rice, crawfish ettoufee, and homemade meatloaf. The kitchen makes fresh bread daily, as well as down-home Southern side dishes, such as sweet potato casserole, corn pudding, and scalloped potatoes.
It would be a crime to leave out Angela's rightfully famous desserts. Buttermilk pie, chocolate cobbler, carrot cake, bread pudding with a whiskey sauce, and brown sugar bundt cake with cream cheese icing are on the menu every day and are usually gone before closing.
Angela Boedeker has high hopes for the new restaurant. "We've never been as excited, or nervous, but I can tell you that we are putting our hearts into this new place, and I'm confi dent that our regular customers will follow and new ones will discover us. We just have to keep doing what we've been doing—cook good food and sell it for a fair price."
Angela's Sausage Roll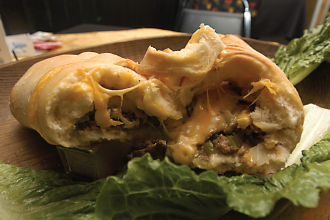 Making the Dough
Dissolve 2 ¼ teaspoon yeast in 1 ¼ cup warm water in a large mixing bowl.
Add:
– 4 Tablespoons powdered milk
– 1 TBS. granulated sugar
– 1 tsp. salt
– 1 tsp. lemon juice
– 3 cups bread flour
Mix together. Turn onto floured board and knead until smooth and elastic adding flour as needed. Place in a greased bowl. Cover with towel. Let rise 1 hour or until doubled in bulk.
Mash dough down and turn onto a floured surface; roll into an 8 x 16 rectangle.
Sausage Filling
Brown 1 lb. hot breakfast sausage with ½ bell pepper, and ½ onion, chopped. Drain well. Cool.
Preparing the Roll
Place sausage mixture down center of bread. Top with ½ cup cheddar cheese and ½ cup Monterey jack cheese. Cut edges of bread at 1 inch intervals to the sausage mixture. Fold down top. Fold up bottom. Press dough to seal. Begin braiding strips by crossing over the filling and pressing strip down on opposite side until all strips are braided. Tuck final strip in. Cover and let rise for 1 hour. Place in preheated 350˚ oven and bake 30-45 minutes or until golden brown. Allow to cool. At this point you can wrap it and freeze it for up to 30 days, or slice and eat!
Chef's Tip: You can use frozen bread dough. Find it in the freezer section of your supermarket. Thaw according to package directions, then roll out into a rectangle. Fill, braid, then let it rise and bake.
Editor's Note: After 11 years of serving friends at five different locations, Angie Boedeker and Casey Kidwell closed their Austin Avenue restaurant, Angela's Cafe. On September 6, 2016 the duo moved down the street to to operate Angela's Cafe Bakery & Market. In semi-retirement they wanted to enjoy fewer hours over fewer days each week, and just slow things down.