Milton Levine was just a few years out of the military in the late 1940s. Like many young men returning from WWII the New Yorker was searching for his place in post-war America. He read in Kiplinger's Letter that there were several ways to make big money—two suggestions were "plastic toys or bobbie pins."
Levine's real success would come later when he imagined another idea that would sell into the millions and become a mail-order cult classic. But in 1946, his main goal was to enter the "exciting world of plastics."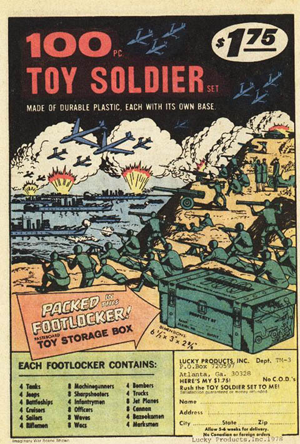 Levine formed a partnership with his brother-in-law, E. Joseph "Joe" Cossman and the pair set out to form a mail-order toy company. E. Joseph Cossman & Company (aka Cossman & Levine Co.) was launched. The pair's business plan was based on the prospect of a post-war baby boom and a manufacturing upswing in the U.S. Since 1912, Cracker Jack had packed small novelty toys in their boxes and that's where the partners began their search for a manufacturer to make their toys. NOSCO Plastic of Erie, Pennsylvania, was a supplier of plastic toys to Cracker Jack and that's where the first "flats" were made.
While no one can agree on a time line, 1950 seems to be the year the mail-order business was in full production.
Initially the small print ads (usually 2-inches x 2 1/4-inches) were placed in local newspapers throughout the southern New York area and later across the nation. The toy soldiers ads were a phenomenal success.
Allow 6-8 Weeks (maybe more)
Sometimes weeks or months after ordering, the postman delivered a package of flat, styrene-based, hard plastic pieces in a marbled green color mixed with varying shades of black or white. Many of the figures were detailed with rank stripes or branch logos on their shoulders.

Levine credits the success of the business as having had "the right product, at the right time, at the right price." At $1.75 (later $1.98) every child with a minimum deposit in their piggy bank could scrape up enough money to order "100 Toy Soldiers Packed in a Footlocker." In fact, the footlocker did not arrive for nearly a year, but its addition doubled an already thriving mail-order business. Cossman & Levine hired a staff of women to open the huge amounts of mail that arrived each day. Before long there were daily visits to the bank to deposit thousands of dollars in one-dollar bills and bags of quarters.
Good News Travels Fast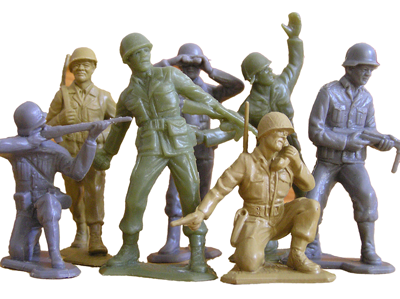 Soon, competitors were selling similar items with very similar advertising. The pitch was always the same: a lot of toys for a low price. Mastercraft, a Boston company, sold "100 Toy Soldiers for $1.00," but did not include the important "footlocker" that held the Cossman & Co. playsets.
It is believed that Levine and his brother-in-law either set up a number of separate companies (all with East Coast P.O. Boxes) or sold wholesale to other mail-order companies. New names with new mailing addresses began to appear by 1951 and endless variations of the offer were appearing.
Cossman also sold a popular "100 Cowboys & Indians" set. This set of western figures arrived in an illustrated box with a unique die-cut "pop-out, build-it-yourself" diorama. The plastic figures were typically flat but came in bright red, yellow and blue colors.
"3 Ring Circus" was a popular offer that featured a pop-out center ring where the animals and performers could be arranged. Perhaps the pink and purple circus set was expected to attract little girls with imagination and a piggy bank. Levine has been quoted as saying the circus set did not do well.
Mail Order Mania
By 1952 there were dozens of competing ads. Most collectors assume the majority were in some way related, since the products were nearly identical.
In addition to the flat hard plastic pieces, new 3-D figures made of soft, molded plastic began to appear.
Sometime in the mid-50s ads were placed on the back pages of comic books and soon became icons of that decade. Millions of play sets were sold including these:
150 Civil War Soldiers ($1.49)
30pc Indian Village Kit ($1.00)
132 Roman Soldiers ($2.98)
200 WWII Soldiers ($1.98)
204 Revolutionary Soldiers ($2.50)
162pc Viking Attack ($2.00)
104 Kings & Knights ($1.49)
116 Planes of All Nations ($1.25)
There was also a line of wargame sets that included the plastic figures accompanied by full-color fold-out play mats, accessories, and rules of play.
Woods Edge ($1.00)
Tank Trap ($1.69)
Task Force ($1.69)
132pc Fighting Ships ($1.50)
196pc Blast Off Space Game ($1.98)
146pc Daniel Boone's Trek to Ol' Kentucky ($1.50)
The Evolution of Toy Soldier Ads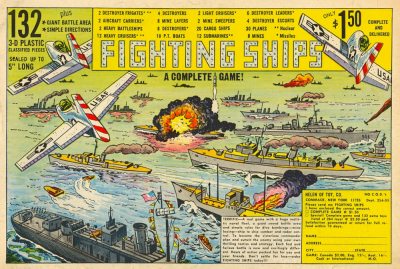 The comic book ads produced spectacular results and the toy sellers realized that a little packaging upgrade—at least in the print ads—might bring even more orders. Russ Heath was one of the preeminent illustrators of the time. His work for DC Comics and other publishers was well-known for its style.
His boss came to him with a small pick-up job to design an ad for an advertiser. Heath's creation of the Revolutionary Soldiers ad set the standard for all future toy soldier offers. Of course, his ads worked like magic.  Heath's imaginative styling added the action and adventure element that had been missing by just showing the plastic figures set up in rows.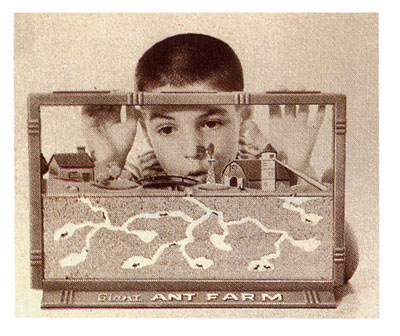 Cossman & Levine made a lot of money with their idea. But Levine tired of the game and started looking for a new product. The fact is that Levine and his brother-in-law directly hawked toy soldiers for a little more than two years. Their new idea was going to be even bigger. Levine's brilliant new invention? Completely ridiculous, some thought. Who was going to buy a mail-order live ant farm? In the early 1960s Milton Levine bought out Cossman and Uncle Milton's Toys was born.