At the heart of the thing, it is simple. Billy Holcomb loves movies, especially cowboy movies. "I like all of them, and I kept track of all of them—the bad men, the comics. I could tell you who the bad man was and the name of his horse. Everybody knows Roy Rogers and Trigger or Gene Autry and Champion, but some of the villains who were always a crook in the movies, always rode the same horse. I'd write to find out what the name of that horse was. I can name all of them."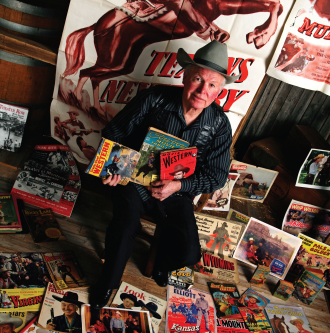 He can too. Throw out the name of ace Roy Rogers nemesis Roy Barcroft, and Holcomb explains that his horse was named Banner. He was a rent horse and also a favorite of John Wayne's. Mention one: Stanford Jolly. Holcomb doesn't even blink before he comes up with Jolly's horse's name. "He rode a horse named Cracker, but then he rode a lot of different horses. They rented them from the Glenn Randell Stables. I met Jolly in person" Holcomb said. "He was a great crook. I met him not long before he died. He was always a crook." Holcomb then starts out on other owl hoots. "Charles 'Blackie' King, Keene Duncan, do you remember Keene Duncan? Did you know that he was a fantastic singer? He came through here with his band one time. And that's when I became a Keene Duncan fan. He was at the Rialto and I've got a poster somewhere announcing his coming. To this day, I'm still baffled at his being such a great country singer. Somewhere, there is a poster."
If you are of a certain age, and spent Saturday afternoons watching shadows gallop across the screen at the Rio in Denison, the Ritz in Sherman, or the Best in Bonham, you will share a lot of memories with Billy Holcomb. But what is fading nostalgia for most is still bright for him.
"In 1942, I was four years old. My mother took me to see Gene Autry over in Honey Grove. I don't remember a thing about the meeting, but I do remember becoming a fan of Gene Autry at that time. While I don't remember it, he did give me his autograph, and I've still got it."
Holcomb still has everything about Gene Autry that he ever ran across. At home in Denison, he has hundreds of magazines, coloring books, posters, pictures and other printed material about his number one hero. But that is not all. While Autry is the main man, Holcomb has similar collections devoted to Roy Rogers, Allan "Rocky" Lane, Randolph Scott, and other range riders of the silver screen. But first and always foremost it was Gene Autry.
"I first remember going to see Gene's movies in 1943, when I was five," Holcomb said. "I couldn't remember the movies or the titles, but I could remember two of the songs, 'Red River Valley' and 'Oh, Susannah.'"
"When Gene wasn't showing, all the other cowboys would come in, and I would go see them. I'd see Rocky Lane, Bob Steele, Roy Rogers or the others. In Denison, the Supurba and the Rio showed Westerns. The State got the first runs of Gene Autry movies, so I saw those there. If Gene Autry was on in Sherman and not in Denison, I'd hop on my bike and ride to Sherman. It wasn't anything for me to get on my bicycle and go to Bells or Durant to see a Gene Autry movie."
When Holcomb was about ten, he started a log called the Denison Movie News. In it, he recorded information about all the movies that played in the city as well as in Sherman. It was like a diary. Using these notes as a starting place, he is putting together a book based on the movies he saw in 1950.
"It brought it back just like it was yesterday," Holcomb said. "It'll say, 'May 23, 1950. Gene Autry is playing at the Ritz Theater in Sherman; I rode over there to see him. When I came out, somebody had messed with my handlebars, and I had to ride back holding the little knob.'" If there was a poster, or a flyer or a hand bill, there is a good chance that Holcomb got hold of not just one, but three or four of them and squirreled them away. He collected everything, and even as a youngster of eight he had the discipline and foresight to take care of his treasures. He made notes about them, cataloged, and preserved them. He often bought several copies of magazines or comic books, cutting one up to put in thick scrapbooks and saving the others.
Movie magazines, Western magazines, TV and radio magazines, posters, pictures, Little Big Books, advertisements, all were material to be collected, preserved, and stored away. Holcomb was not only fascinated by the movies, he was equally taken with the theaters in which the movies played. He talked to the managers. "Why was this film shown here instead of down the street? What do you call those big posters? Where can I get a lobby card?"
A few years ago he wrote a monograph on the history of motion picture theaters in Denison. It was published by the Denison Heritage Society and heralded as one of the best works written on small town theaters. He has unpublished monographs on theaters in Sherman, Bonham, Paris and most of the smaller communities in Grayson and Fannin Counties.
For these studies, he started with the remarkable database of his own memory and then painstakingly went back through old newspapers to piece out the histories of the Texas Theater in Sherman or the American in Bonham. He has considered taking on the entire state of Texas, and he just might do it.
Through all of this, Holcomb has made a living in the insurance business, operated radio stations and worked as a musician. He has written more than 1,000 songs, mostly patriotic or gospel numbers, and many have been recorded by top performers in those fields. Starting in high school, he organized and played with a Western gospel band.
"We used to go by 'Billy and the Border Town Gospel Band,'" he said. "Then we started playing a little more country, and we became 'Billy and the Border Town Boogie Band.' Then I got into working in the church, and I worked in the church heavy for years."
Through his church association, Holcomb became active in the National Gospel Music Association, serving as its president for 15 years. In 1977, he started the Texoma Music Association, and each year the group promotes local artists in the business.
Not a man to do one thing at a time, Holcomb always has several projects going at once. Currently, in addition to his book on Gene Autry in 1950, he is working on a history of the streets of Denison. He started with Austin Avenue, long ago the major route through downtown. Working from old papers and legal records, he documented each building along the street, with photographs and notes on the businesses that occupied the spaces. Finished with Austin Avenue, he moved on and is working his way through Denison's downtown and its history. There seems to be no end to what this man knows or what his curiosity compels him to find out. And all he learns he readily shares with his neighbors, friends and anyone else who wants to know.
Sherman and Denison Silver Screens
In linage, Sherman's Plaza topped them all. It started as the Empire in 1905, and welcomed moviegoers as the Jewel and the Washington before reopening on the north side of the square in 1939 with a shiny white façade and a new name. The Ritz, it was the Dreamland then, opened on the west side of N. Travis in the 100 block in 1908. Then it was the Gym. The rebuilt Ritz opened for business in 1935. With 500 seats it was the city's second venue behind the more glamorous Texas. The Ritz went dark in 1956. The State was the city's last old-style theater and the smallest. When it opened as the Fox just up the street from the Ritz in 1939. It got its new name a year later. The State was the place to be on Saturday morning in the 1940s and 50s. When the huge marquee rose over the sidewalk on the south side of Sherman's E. Houston in 1931, the Texas Theater became Grayson County's queen of showplaces. From the beginning, the theater entered into a unusual arrangement with its Denison counterpart, the Rialto, to always show the same feature at the same time. A fire in 1939, gutted the Texas, but it was quickly rebuilt, and if anything, was even more spectacular in its second conformation. The theater closed in 1971. The famous Texas marquee lives on as a permanent exhibit at the Bob Bullock Texas State History Museum in Austin. Denison's Rio opened in 1940 on the north side of Main Street. It closed on December 31, 1956. It was called the Star when it opened on the south side of Main Street in the 200 block in 1913. It was the city's top movie house until Denison got the Rialto. The theater got a new look and a new name in 1948, when it was rechristened the State, it fitfully survived until 1962. It was hailed as the "Theater Beautiful" when it opened in August 1920, and it was a title the Rialto never relinquished. On the south side of the 400 block of West Main, the Rialto stands today, the only survivor of the dozens of Grayson County movie theaters that held audiences "spellbound in darkness" for eight decades. The Superba opened 1921 across from the street from the Star. It boasted a balcony and the first popcorn machine in North Texas. For forty-three years it helped Denisonians lose their troubles in the movies' fantasies of lights and shadows. Its marquee went black, without fanfare in February 1958, with the showing of an aptly named movie, Ghost Town.
Featured Archive Story

By Dan Acree

"I never intended to become a beekeeper, amateur or otherwise," said Olner. "Helping a friend clear some property we cut down a good-sized tree and when it was on its side we noticed a bunch of bees swarming around a hole." A chainsaw cut revealed at least 10 feet of bees and their honey.

Category: People

It may seem like a cultural anomaly, but it is not, not really. Few of the artists whose works reflect the legacy and heritage of the American West were born to the land they portrayed. Frederic Remington was from upstate New York, the son of an emigrant hardware merchant. Charles Schreyvogel was born in New York City and raised in Hoboken, New Jersey, and N.C. Wyeth was a Massachusetts boy.

Category: People

Texoma television has changed, and more change is on the way. Deciphering the channel landscape is daunting. It is like trying to follow one of the latest convoluted thrillers, provided of course, that you can figure out what channel it is on.

Category: Business
Looking for the Printed Version?

You can find a complete set of Texoma Living! Magazine in the library at Austin College.