It seems appropriate that Emory Perry grew up on Music Street in Sherman. "Everybody on Music Street played an instrument," he said. "The first thing I played was a snuff can with holes in the lid covered with tissue paper." His mother took in extra work to make the $45 to buy him an alto saxophone, and he learned to play it under the eye of the new bandmaster at Fred Douglas School, Dr. Orpheous Anderson. By the age of 12, Perry was playing with the house bands at some of the clubs around Denison, including the hot spot, the Tropical Gardens.
Perry went into the army when he finished school, and though he was assigned to an engineering unit, he quickly organized a band, and spent more time with sax and less time with the jack hammer. When he got out of the service in 1949, he wanted to study engineering, so he moved to Los Angeles to live with his sister and go to school under the GI Bill.

While waiting for school to began, he walked the streets of the music district looking for a place to play. He sat in with a band fronted by Richie Lewis, and met another sax man, Marvin Phillips. Phillips was scheduled to cut a record, but his partner was going into the army, so he persuaded Perry to fill in. "We were going to be "Marvin and Emory," he said, "but the record people thought "Marvin and Johnny sounded better, so I became Johnny."
The recording on Modern Records was called "Cherry Pie," and the flip side was a song the pair wrote on the way to the studio after being inspired by the big clock at L.A.'s Union Terminal. "Tick tock, tick tock, my baby don't know when to stop." Both sides went gold. Other tunes like "Ko Ko Mo", "Baby Doll", "Pretty Eyes"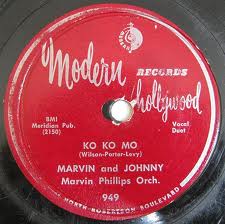 Many music scholars agree that much of the Doo-Wop sound of a few years later, grew out of the early stylings of Marvin and Johnny. For most of the next 20 years, Marvin and Johnny were a solid act, playing packaed rooms at clubs, recording and touring the county in two Chevy Suburbans with "Marvin and Johnny" emblazoned on the sides. And then it stopped. Almost over night the gigs dried up as disco swept the country. Now it was the music, not the musicians who drew the crowds, and with little expenditure, the clubs could hire a DJ and buy a batch of records and be in business. Marvin went to work for the city of Los Angeles and Emory Perry got a job at the post office.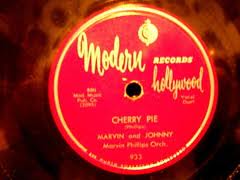 He retired in 1997, after 30 years on the job, and he and his wife Lilly—she's from Pilot Point—came home to Texas. "Right here, here where my house is now, we used to hunt rabbits. We'd get a croker sack full of rabbits and sell them. You had to keep the paws on so the folk would know you weren't trying to sell them cats."
This article appeared in the Winter 2006 issue of Texoma Living!.
Featured Archive Story

By Kathy Floyd

The creativity in Janet Karam's paintings is undeniable. Her contemporary, colorful takes on saxophones, jazz musicians, buildings, blues singers and ballerinas vibrate with life. "I think I had a spark from a young age," Karam said about her creative streak. "It was lying dormant, but my mother helped light it, and now in my older years she nurtures it."

In 1937 Congressman Sam Rayburn led a contingent from Denison to a meeting in Louisiana that would lead to the construction of one of the largest man-made lakes ever.

Category: Heritage

It is not too far a stretch to say that everybody who plays the electric guitar owes something to Charlie Christian. He was born in Bonham in 1916, but when his father, a waiter, suddenly became blind in 1918, the family moved to Oklahoma City. Christian began his musical career on the cornet, but soon gave it up for his father's favorite instrument, the guitar.

Category: FOB
Looking for the Printed Version?

You can find a complete set of Texoma Living! Magazine in the library at Austin College.